Arts Response
Epoch Arts Arts Response
We believe that the arts can help change our world, and our purpose with "An Arts Response" is to bring critical issues out of the dark and into people's conscience. Every year, Epoch Arts responds to a crisis in the world with the arts. Be it painting, poetry, or plays - whatever your art form is.
Arts Response 2018: Sticks and Stones. Students responded to the issues of bullying, suicide and mental health issues.
Arts Response 2017: Love Hate-Responding in Love.
Students responded to finding healthy ways to respond to hate. They looked at issues like bullying, cancer, addiction and prejudice. Performace was Feb.25th
Arts Response 2016: Addiction, Breaking Chains
The students responded to Addiction: Breaking Chains. Students took on the issues of what addiction is and finding hope through it. A talk back was held after the performance. April 23rd, 7:00pm.
http://www.courant.com/community/east-hampton/hc-cr-east-hampton-epoch-arts-addiction-program-0512-20160509-story.html
Arts Response Memories
Arts Response 2015 - Joy Through Sorrow
Students responded to how you can find joy even in the toughest situations.
Arts Response 2014 - Hunger
Students responded to the crisis of hunger. Teaming up with Feed My Starving Children, the cast worked hard to help fight hunger and raise awareness.
Arts Response 2013 - Love 146
Love 146 is a non profit dedicated to the abolition of child trafficking and exploitation. Nothing less.Abolition and Restoration! We combat child trafficking & exploitation with the unexpected and restore survivors with excellence. With a special presentation on March 20th, our students responded to this issue. Visit Love146 at http://love146.org/about-us
Arts Response 2012 - Illness
An evening of artistic responses to the crisis of illness. Be it mental or physical ilness, our students responded to it by music, dance, film, theater, song etc.
Arts Response 2011 - Homelessness
This year our students focused on the theme "Homelessness". Responding to issues like job loss, mental handicaps and poverty, our students presented a powerful night of artistic response.
Arts Response 2010 - Community
Students responded to problems within their communities: abuse, poverty, drugs and many more. All proceeds went to sponsor a speaker to address these issues.
Arts Response 2009 - Compassion
Students responded to the theme "Compassion" in a variety of artistic modes. All proceeds from 2009 went to Banjar Tribal Ministries.
Arts Response 2008 - Cancer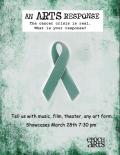 Proceeds from the 2008 Arts Response went to the organization, the Sunshine Kids.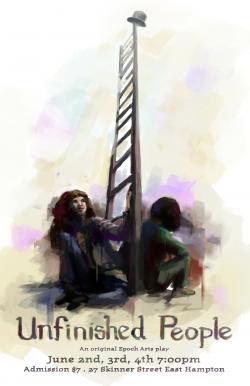 Thanks for coming to Unfinished People-2017
The original play, Unfinished People, focused on issues of social and economic differences, it looked at what causes separation, what distracts us from community involvement and how we can educate ourselves on issues that we know nothing about. It talked about characters who lived in a perfect diverse society, but when they are pulled out of that society and forced to look at the real world,they are shocked at how broken the world really is. "The play tackled current social and economic issues, as well as addressed the drug problems in this world that others seem to ignore. It taught us that we need to be passionate and active members of our community, instead of being distracted by superficial things," says actor Megan Crotty. The play asked the question of how we spend our time, what superficial things we fill it up with and should we be investing in people, rather than things. Sixteen year old cast member Robin Leet explained, "This isn't your average play. This show discusses important, sparsely spoken of issues, such as drugs, addiction and what it can do to a person, and the unhealthy things we consume ourselves with in daily life. We will speak of the vacancy in relationships and people caused by cell phones and other casual, everyday devices.We break down barriers you might not even know were there and bring attention to poverty, the middle to lower class, and how these issues can affect our community as a whole."