Fall Classes

6 Day Tag Sale
Come In!
We are Epoch Arts! An "arts for youth" non-profit, 501(c)3 organization dedicated to helping young people communicate, collaborate, create and celebrate through experiencing, hands-on, the arts. No experience needed, please.  Whether in a class, rehearsal or a performance, students learn valuable principles, techniques and skills that help them grow as people, and as artists.  We address complex issues and social tensions young people face by creating original art.  Our aim isn't to create perfect artists or art but rather to use the arts as a medium to help students understand and express feelings, work with others as a community and explore complex issues that we face in our daily lives. So, join us! We are eager to get to know you!
Latest News:
Posted: Sep 1, 2015
Welcome to our new website! We hope it is friendly to you. Please explore around and let us know if you have any suggestions.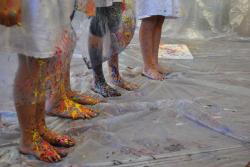 Thanks for coming to Project Art 2016
Creating original art in a variety of art forms can be challenging enough, but doing so in a 42,000 square foot run down factory building, in a community that is off the beaten path, with students who are misplaced and at risk, is extremely tough. But that is what the volunteers at Epoch Arts are doing daily. We believe that art can ignite change in both an individual and a community and we are seeing the difference daily. Project Art does much more than supply students with the material and resources they need, it supplies them with life lasting mentors and skills. Teachers invest in our students as a whole. They know them by much more than just a name, they know who they are, what they need and more importantly,they put them on a path that ensures a safe future. Our programs run eleven months of the year and we are in constant need of supplies. Items like these are always in demand: canvases, paint, brushes, paper, journals, dye, wood for set designs and art shows as well as materials for our community paint nights.Our not for profit organization is reaching out to you, through Project Art, to help fund us. We appreciate your time in reading this and encourage you to look at our website for further information about what we have, are and will continue to do for our youth and the community.