Brookside Nights
Brookside Nights
Brookside Nights is a monthly music venue for teens 13 and up. Featuring some of Connecticut's best up and coming youth bands, it also offers dance parties with an in house DJ, Glow Dances, A Masked Ball, Open Mic Nights and Poetry Nights. The night is complete with professional sound and lighting. Brookside Nights provides a place for the area's top talent to share their original music with the surrounding community and an artistic environment where local youth can come and listen to relevant music. We are open once or twice a month, Friday nights, 7:00-10:00pm. Admission is $5 with a cafe that is open to purchase food and drinks. To book your band contact Omar Namen at omar@epocharts.org.
Brookside Nights is funded by:
The East Hampton Local Prevention Council.
The CarMax Grant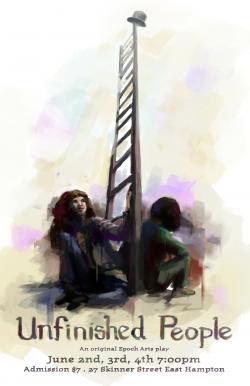 Thanks for coming to Unfinished People-2017
The original play, Unfinished People, focused on issues of social and economic differences, it looked at what causes separation, what distracts us from community involvement and how we can educate ourselves on issues that we know nothing about. It talked about characters who lived in a perfect diverse society, but when they are pulled out of that society and forced to look at the real world,they are shocked at how broken the world really is. "The play tackled current social and economic issues, as well as addressed the drug problems in this world that others seem to ignore. It taught us that we need to be passionate and active members of our community, instead of being distracted by superficial things," says actor Megan Crotty. The play asked the question of how we spend our time, what superficial things we fill it up with and should we be investing in people, rather than things. Sixteen year old cast member Robin Leet explained, "This isn't your average play. This show discusses important, sparsely spoken of issues, such as drugs, addiction and what it can do to a person, and the unhealthy things we consume ourselves with in daily life. We will speak of the vacancy in relationships and people caused by cell phones and other casual, everyday devices.We break down barriers you might not even know were there and bring attention to poverty, the middle to lower class, and how these issues can affect our community as a whole."