Donate
Epoch Arts is a non profit 501(c)3 organization that relies on funding from Foundations, Corporations, friends and family and people like you. Through your support, we are able to offer artsitic programs to hundreds of youth in Middlesex County.
Every amount  helps support our mission. Please donate today. Check with the company you work for to see if they will match your donation.
Have a look at our 2015 Annual Report to learn how your donations are put to work!
Ways to Donate
Online
By Mail
To donate by check please make checks payable to Epoch Arts and mail to
27 Skinner Street
East Hampton,Ct. 06424
Here are some ways your donation helps. 
Amazon Smile
Log in to smile.amazon.com before you place your order.
Log in to your account and place your order.
That's it!!
Gifts-in-Kind: 
We readily accept gifts of goods or services. In-kind gifts often help us to meet specific operational needs. Epoch is happy to help you determine the availability of potential income tax deductions for your in-kind donations. All donations are tax deductible.
Matching Gifts
The company for which you or a relative works may have a corporate matching gift program. Epoch Arts qualifies for many "Matching Gifts". Taking advantage of this gift option through your company may allow you to double or even triple your gifts.
Current Needs:
Sponsor a tuition waiver student for classes. Give a child whose family cannot afford tuition an opportunity to experience the arts.
Materials for the building. Epoch is expanding its space. Building supplies are needed to replace the windows, pave the parking lot, fix up new classrooms, and many other projects.
Sponsor a program. Breaking Silences, Student Directed Plays, the Haunted House, Mainstage and Mini productions, Film Festivals and Brookside Nights are just some of the many programs that you could help sponsor.
Equipment
If you or your company would like to donate used equipment to us, we could put it to good use.
We will take just about anything, but we could make particularly good use of:
Audio/video equipment
Digital cameras
Theatrical supplies
Lighting
Costumes
Microphones
Office supplies
Construction supplies
Your Impact

$50

Art supplies for students enrolled in classes and programs

$120

Support the enrollment of a student  who would otherwise not be able to enroll

$250

Support one of the set designs for a student production  

$500

Supports expansions in building and programming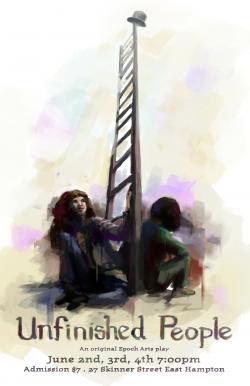 Thanks for coming to Unfinished People-2017
The original play, Unfinished People, focused on issues of social and economic differences, it looked at what causes separation, what distracts us from community involvement and how we can educate ourselves on issues that we know nothing about. It talked about characters who lived in a perfect diverse society, but when they are pulled out of that society and forced to look at the real world,they are shocked at how broken the world really is. "The play tackled current social and economic issues, as well as addressed the drug problems in this world that others seem to ignore. It taught us that we need to be passionate and active members of our community, instead of being distracted by superficial things," says actor Megan Crotty. The play asked the question of how we spend our time, what superficial things we fill it up with and should we be investing in people, rather than things. Sixteen year old cast member Robin Leet explained, "This isn't your average play. This show discusses important, sparsely spoken of issues, such as drugs, addiction and what it can do to a person, and the unhealthy things we consume ourselves with in daily life. We will speak of the vacancy in relationships and people caused by cell phones and other casual, everyday devices.We break down barriers you might not even know were there and bring attention to poverty, the middle to lower class, and how these issues can affect our community as a whole."