Summer Session
Summer Session
K-6th Grade
Join us for a week of artistic expression! Students will experience three workshops each day focusing on arts & crafts, theater and clay creations. Learn to express yourself through the arts and have fun in a relaxed, kid friendly environment!  Please bring a bagged lunch each day. (Microwave and 'fridge on site) Iced water available through out the day,  Share Day at the end of the week at 2:00 Friday afternoon!!
6th-11th Grade
Join us for a week of artistic expression and exploration. Teens will focus on two workshops: Stop Animation and Fine Arts. The morning workshop will be geared towards students getting familiar with all aspects of stop animation. Concept story boards, camera use and editing will all be incorporated into this workshop. The afternoon is dedicated to the fine arts. Painting, drawing, watercolor, charcoal and the use of mixed media will be some of the areas that you will be exploring. Students will meet in the Epoch Cafe' for morning introduction and lunch each day. At the end of the week, students will share their short film and art work.
Summer Session Memories
Project Art 2016

Creating original art in a variety of art forms can be challenging enough, but doing so in a 42,000 square foot run down factory building, in a community that is off the beaten path, with students who are misplaced and at risk, is extremely tough. But that is what the volunteers at Epoch Arts are doing daily. We believe that art can ignite change in both an individual and a community and we are seeing the difference daily. Project Art does much more than supply students with the material and resources they need, it supplies them with life lasting mentors and skills. Teachers invest in our students as a whole. They know them by much more than just a name, they know who they are, what they need and more importantly,they put them on a path that ensures a safe future. Our programs run eleven months of the year and we are in constant need of supplies. Items like these are always in demand: canvases, paint, brushes, paper, journals, dye, wood for set designs and art shows as well as materials for our community paint nights.Our not for profit organization is reaching out to you, through Project Art, to help fund us. We appreciate your time in reading this and encourage you to look at our website for further information about what we have, are and will continue to do for our youth and the community.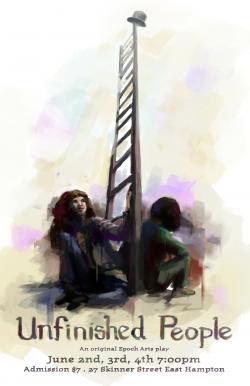 Thanks for coming to Unfinished People-2017
The original play, Unfinished People, focused on issues of social and economic differences, it looked at what causes separation, what distracts us from community involvement and how we can educate ourselves on issues that we know nothing about. It talked about characters who lived in a perfect diverse society, but when they are pulled out of that society and forced to look at the real world,they are shocked at how broken the world really is. "The play tackled current social and economic issues, as well as addressed the drug problems in this world that others seem to ignore. It taught us that we need to be passionate and active members of our community, instead of being distracted by superficial things," says actor Megan Crotty. The play asked the question of how we spend our time, what superficial things we fill it up with and should we be investing in people, rather than things. Sixteen year old cast member Robin Leet explained, "This isn't your average play. This show discusses important, sparsely spoken of issues, such as drugs, addiction and what it can do to a person, and the unhealthy things we consume ourselves with in daily life. We will speak of the vacancy in relationships and people caused by cell phones and other casual, everyday devices.We break down barriers you might not even know were there and bring attention to poverty, the middle to lower class, and how these issues can affect our community as a whole."