Our Donors
Donations are a very important part of the work we do at Epoch Arts. We appreciate each and every donation.
Please click the donate tab to discover ways to support our missions, or view our 2015 Annual Report to learn more about how we put your donations to work!
OUR DONORS
Epoch Arts is grateful for the generosity of our donors, both individual and corporate. In 2016, we received donations, grants and in-kind donations from these businesses and nonprofit agencies:

1-$99
Cynthia Abraham Kevin & Nadean Johnson
John & Tina Ahlquist Lynn Kearney
Steve Archibald Jennie Kerney
Sherry Banack Jeanette Knotex
Audrey & Shane Beatty Caitlin Leffingwell
Sherry Blair Peter & Michelle Levy
Michelle & Keith Boislard Ruth & Richard Lintz
Carolyn Brau Jesus Manga
Shannon Bristol Carol Manson
Mitchell Brown Kim,Steve & Ethan Markesich
Karl Buckley Cathy Markham
Joe & Chrissy Cerino Brendan,Virgina & Arlo Matthews
Sue Cheatham Lexi McGuigan
Classic Africa LLC John & Evie Michaud
Bonnie Cook Elizabeth Namen
Danny Cook Laurie O'Neil
Janet Cook Gary & Lauren Pelletier
D. Alanna & George Coshow Emma Peltier
Emily Courtney Christopher & Lisa Peltier
Ed & Claire Crotty April Pepin
Bernadette Davidson Suzanne & Ronald Pleasant
Joann Dibert Teri Prestach
Barbara Dolce Bryan & Rachel Raddatz
Nancy Dolde Radiant Yoga
Sheryl Dougherty Susan Rajcok
Peter Evans SR Kevin Reich
Joyce Evans Jacclyn & Christian Ritter
Peter Evans Hillary Root Szczerbinski
William Evertson Rowland Rux
John & Amanda Filhaber/Morris Flora Sadik
Eileen Finer Diane F. Sanderson
Rachel Foster Kathy Sanderson
Pam Gardiner Jon Schroth
Bill Geroiami Katie Sehl
E & W Gollenberg Joshua Shook
Britta Gustafson Lisa Sinkewicz
Alison Hayward Helen Steyer
Higher Ground at 32 Main Margaret Sweeny
Mike & Joy Holbrook TLC Home Cooking
Reanna Holmes Marla Waldo
Barbara Howard Patricia Wilcox
Linda Howard Pam Wooding
Thomas Ingala Ben Wooding
Betty (Nana) James Elisabeth Wyman
Julie Jenny
Danielle Jette
$100-$299
Action Steel c/o Liza Bonadies
Robin Albertson-Mahar
Carrye Burr
Debra & Sean Crotty
Cole & Family Eighmy
Jill & Michael Jensen/Foster
Linda May
Cynthia Ramsey
Sandy & Gene Talbot
Tier Technology Services c/o Chris Peltier
Marcella & Dic Trowbridge/Wheeler
We appreciate the support that we get from many individual donors as well. And our Giant Annual Tag Sale wouldn't exist without the donations we receive from dozens, if not hundreds of local community members.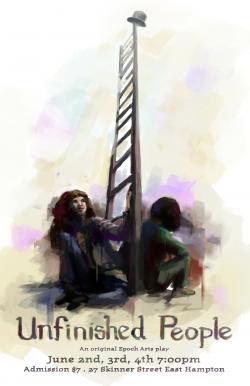 Thanks for coming to Unfinished People-2017
The original play, Unfinished People, focused on issues of social and economic differences, it looked at what causes separation, what distracts us from community involvement and how we can educate ourselves on issues that we know nothing about. It talked about characters who lived in a perfect diverse society, but when they are pulled out of that society and forced to look at the real world,they are shocked at how broken the world really is. "The play tackled current social and economic issues, as well as addressed the drug problems in this world that others seem to ignore. It taught us that we need to be passionate and active members of our community, instead of being distracted by superficial things," says actor Megan Crotty. The play asked the question of how we spend our time, what superficial things we fill it up with and should we be investing in people, rather than things. Sixteen year old cast member Robin Leet explained, "This isn't your average play. This show discusses important, sparsely spoken of issues, such as drugs, addiction and what it can do to a person, and the unhealthy things we consume ourselves with in daily life. We will speak of the vacancy in relationships and people caused by cell phones and other casual, everyday devices.We break down barriers you might not even know were there and bring attention to poverty, the middle to lower class, and how these issues can affect our community as a whole."