Our Donors
Donations are a very important part of the work we do at Epoch Arts. We appreciate each and every donation.
Please click the donate tab to discover ways to support our missions, or view our 2015 Annual Report to learn more about how we put your donations to work!
OUR DONORS
Epoch Arts is grateful for the generosity of our donors, both individual and corporate. In 2015, we received donations, grants and in-kind donations from these businesses and nonprofit agencies:

All Purpose Paving
Angelico's Lake House Restaurant
Anything Goes
Bethlehem Lutheran Church
Black Cat Music
Blue Sky Studios
Brian Avery Music
Built By Design
Cheers Package Store
Classic Africa
Cornerstone Church East Hampton
CT Beverage Mart
Dart Tree Services
Defensive Edge
Dollar Plus Cromwell
East Haddam Stage Company
East Hampton Arts and Culture Commission
East Hampton Cub Scout Den 3
East Hampton Food Bank
East Hampton Local Prevention Council
Echo Trading
Eggs Up Grill
Family Dollar Portland
First and Last Tavern
Fit-Trix
Froth Coffeehouse
Gifts of Grace
Governor's Tavern
Gung Ho Chinese Japanese Restaurant
H2O Equipment Co., Inc.
Higher Grounds@Seventy Main
Home Depot
Hope Church East Hampton
It's Only Natural Market
Jerry's Artarama
Kainos Life Ministries
Kid City
La Vita Gustosa
Loco Perro
Luce
Main Street Pizza
Marlborough Country Bakery
MegaPath
Middlesex County Community Foundation
Mimi Design
Papa Z's Restaurant and Pizza
Pierre Sylvain
Pizzeria DaVinci
Po's Rice and Spice
Price Chopper
Price-Rite Cromwell
Radiant Yoga
Ray of Light Farm
Red Door Boutique
Ronald McDonald House
Rossini's Italian Restaurant
Salmon River Music Together
Stop & Shop East Hampton
Sweet Repeats
Swing Bridge Wine and Spirits
Tesoro
The Buttonwood Tree
The Cooking Company
The Music People! Inc
The Time Machine
Tier Technology Services
TLC Home Cooking
Toyo Hibachi Asian Fusion
Tri-Town Portland
Tuscany Grill
United Way of Central and NE CT
Verizon Foundation
Westchester Market
Your Closet or Mine
Youth and Family Services of East Hampton
We appreciate the support that we get from many individual donors as well. And our Giant Annual Tag Sale wouldn't exist without the donations we receive from dozens, if not hundreds of local community members.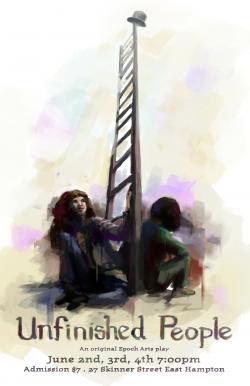 Thanks for coming to Unfinished People-2017
The original play, Unfinished People, focused on issues of social and economic differences, it looked at what causes separation, what distracts us from community involvement and how we can educate ourselves on issues that we know nothing about. It talked about characters who lived in a perfect diverse society, but when they are pulled out of that society and forced to look at the real world,they are shocked at how broken the world really is. "The play tackled current social and economic issues, as well as addressed the drug problems in this world that others seem to ignore. It taught us that we need to be passionate and active members of our community, instead of being distracted by superficial things," says actor Megan Crotty. The play asked the question of how we spend our time, what superficial things we fill it up with and should we be investing in people, rather than things. Sixteen year old cast member Robin Leet explained, "This isn't your average play. This show discusses important, sparsely spoken of issues, such as drugs, addiction and what it can do to a person, and the unhealthy things we consume ourselves with in daily life. We will speak of the vacancy in relationships and people caused by cell phones and other casual, everyday devices.We break down barriers you might not even know were there and bring attention to poverty, the middle to lower class, and how these issues can affect our community as a whole."