Summer Session 2017
Summer Session 2017
Monday, July 17 at 9:00AM
K-6th Grade
Join us for a week of artistic expression! Students will experience three workshops each day focusing on arts & crafts, theater and clay creations. Learn to express yourself through the arts and have fun in a relaxed, kid friendly environment!  Please bring a bagged lunch each day. (Microwave and 'fridge on site) Iced water available through out the day,  Share Day at the end of the week at 2:00 Friday afternoon!!
6th-11th Grade
Join us for a week of artistic expression and exploration. Teens will focus on two workshops: Stop Animation and Fine Arts. The morning workshop will be geared towards students getting familiar with all aspects of stop animation. Concept story boards, camera use and editing will all be incorporated into this workshop. The afternoon is dedicated to the fine arts. Painting, drawing, watercolor, charcoal and the use of mixed media will be some of the areas that you will be exploring. Students will meet in the Epoch Cafe' for morning introduction and lunch each day. At the end of the week, students will share their short film and art work.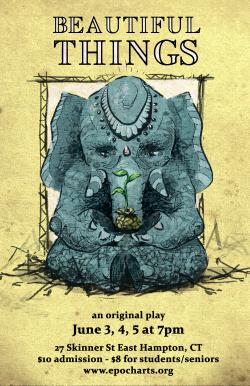 Thanks for coming to Beautiful Things 2016
"You are beautiful, smart, unique, and you are always enough. You are worth it, I tell her. And with the smallest of actions, with nothing more than a seed, her spirits were lifted in this one little deed. Yes, I believe love, will make you do crazy things." Little things are worth the investment.